La League
Worldwide, more than 650 million women alive today were married before they were eighteen years old (UNICEF, 2023) and approximately 21 million girls aged 15 to 19 get pregnant each year (WHO, 2023). The La League project aims to empower girls through football in order to challenge gender stereotypes and ultimately prevent early pregnancies and child marriages, creating opportunities for girls to shape their own futures.
With the La League project, Plan International addresses the urgent issue of teenage pregnancies and child marriage in Brazil and Nicaragua. When girls get pregnant at an early age, they are often forced to drop out of school and marry the father of their child. Their new role, being a wife and a mother, takes up all of their time, leaving no room for further studies. Without an education, they are fully dependent on their husband, their family, or their husband's family. Next to that, pregnancy and childbirth at an early age also heighten the risk of complications, often resulting in lifelong health problems or even the death of mother or baby.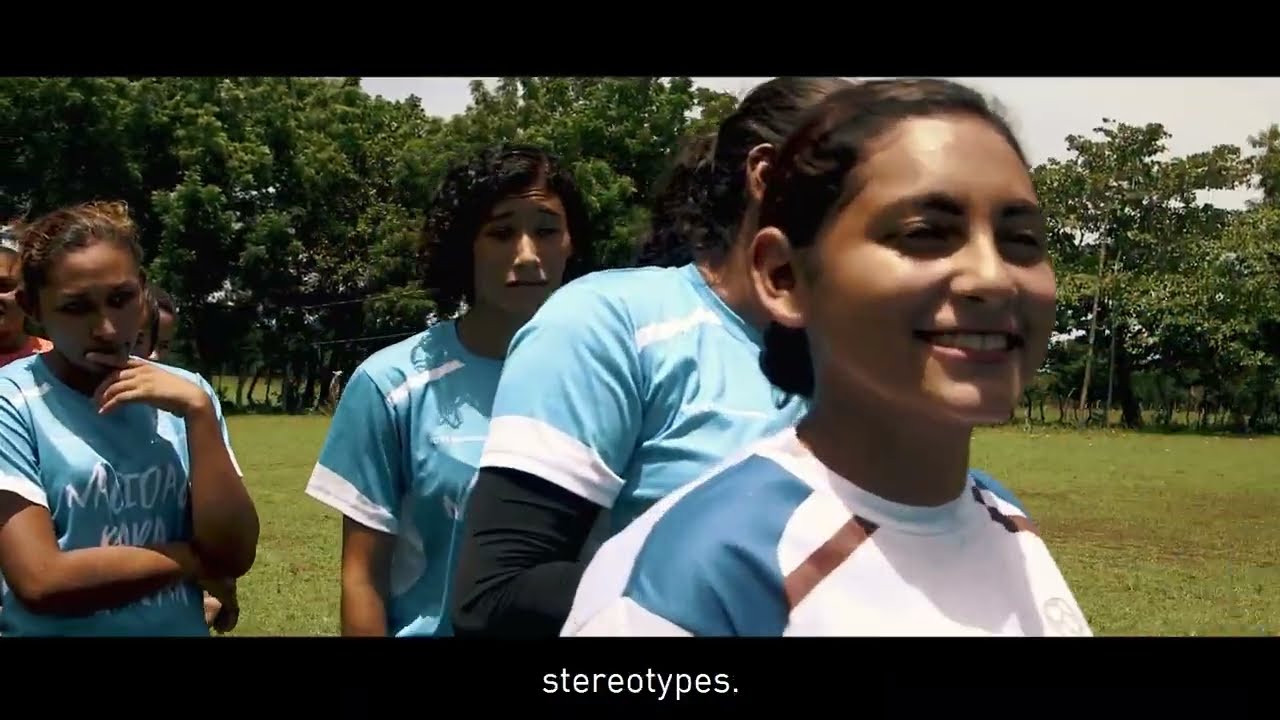 Putting teenage pregnancies off side
The La League project aims to use football, combined with life skills training, as a tool of empowerment for girls. We wish to break the gender stereotypes that often are an important cause of teenage pregnancy, child marriage, and gender-based violence. Through football, girls are able to grow their confidence, resilience and leadership tools. We provide them with opportunities to develop their physical, mental and social capabilities.
However, in order to prevent teenage pregnancy, we need to go further than football alone. Through targeted interventions, we also provide girls with information about sexual and reproductive health, including contraception, healthy relationships and the fact that they themselves are the ones making the decisions when it comes to their body. We support girls and give them the information they need to make their own choices and delay parenthood.
In order to eliminate barriers that hinder girls' participation in sports, such as societal norms, lack of resources, and limited access to facilities, we work with communities, schools, and local partners to ensure equal opportunities for girls to engage in football and other sports activities. By breaking down gender-based barriers, we create inclusive environments where girls can thrive and lead.
Successful implementation
Since the start of the project in 2018, over 800 girls have learnt about their rights and have transformed gender norms within their communities. More than a hundred girls were equipped with leadership skills and prepared to take their first steps on the job market. Over 1.5 million people were reached by La League's messages on gender equality and sexual and reproductive health rights.
One of the girls supported by the La League project, is Elisvânia (20). She participated in 2018, in Brazil. Now, she is a professional football player. "The La League project contributed to my life in the best possible way," she recalls. "The girls in my neighbourhood told me about a project supporting football for girls, so I decided to join. Through La League, I learned that girls and boys have the same rights and roles, and that we are both free to make our own choices. This was a great motivation for me to follow my dreams."
"We must live the story we want to tell"
Elisvânia continues to encourage girls by talking about her experience with La League. Her story shows them that it is possible to follow your dreams and become whoever you want to be. Whether that is a professional athlete, a politician, a teacher or something completely different. "Sometimes it is hard, but if you have a dream, you have to fight for it. We must live the story we want to tell!"
Join the movement
Do you want to be a part of our mission to build a future where girls thrive, take the lead, and contribute to a more equitable and inclusive society through the transformative power of sports? To get involved or in case of questions, please reach out to us at info@planinternational.nl. Together, we can make a lasting impact and create a world where every girl has the opportunity to succeed and fulfill her potential.